Windpumps & Windmills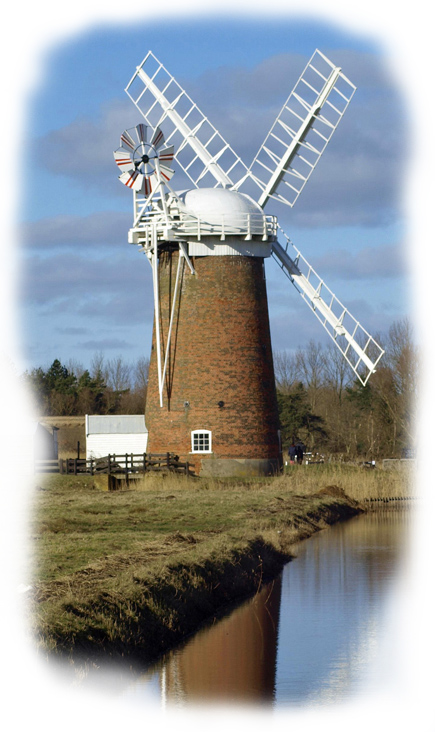 Polkey's and Cadge's Mills and Reedham Marsh Steam Engine House
Horsey Mill
www.nationaltrust.org.uk/horsey-windpump/
NR29 4EF
Open 31st March – 1st November 10.00am – 4.3pm, Monday
Open all Bank Holidays between 6th March and 31st October.
Enquiries: 01263 740241.
www.english-heritage.org.uk/daysout/properties/berney-arms-windmill/
Grid reference: TG 465 050
OS sheet: 134
Postcode: NR30 1SB
On the N bank of the River Yare about 3.5 miles NE of Reedham. Train from Norwich or Great Yarmouth to Berney Arms station, or from Halvergate on foot (3.5 miles).
One of the finest of Norfolk's tower mills, in the care of English Heritage. It has seven floors, and is the tallest mill in the Broadland area. It ground cement clinker until about 1880, and was then used for drainage until 1951.
Opening times 23rd June to 28th March 2013
All enquiries: Tel. 01493 857900.
Access to the mill is by pre-booked group tours only. For further information please contact Great Yarmouth Row Houses on 01493 857900.
PLEASE NOTE: The mill does NOT have any access by road. Access on foot from Great Yarmouth (6 miles) or Halvergate (3 miles), alternatively by rail to Berney Arms (request stop only) or by privately hired boat.
Hardley Mill
NR14 6AD (nearest postcode )
Opening hours are 10am to 4pm.
The visitor centre and mill are open at weekends from 16 April to 30 September 10am till 4pm During the week, there are frequently members of FoHW working at the mill. They will often be able to show visitors around, but access may be limited depending on the nature of work being carried out—please don't be offended if it is not possible to view the mill.
The moorings at Hardley Mill are now open and available for use. The moorings are equipped with electricity hook up points which can be activated using pre paid cards. For a list of card retailers please click here.
Note – There is now an overnight mooring fee or £5.00.
Stays on days that the mill is open to visitors should be limited to 3 hours, this will allow more river users to get onto the moorings on weekends. Please respect the notices regarding maximum stay times.
There are no drinking water or litter disposal facilities at the mill, so please plan your stay accordingly.
O.S. TG 387 024
Ashtree Farm drainage mill
http://www.norfolkmills.co.uk/WindmillsD/ashtree-farm-drainage.html
In September 2006 a new cap and sails were fitted by local millwright Richard Seago of South Walsham as part of a two year restoration programme. The mill was then opened to the public by prior arrangement with either the Norfolk Windmills Trust or the owner, Tom Banham.
Polkey's and Cadge's Mills and Reedham Marsh Steam Engine House
Heritage Open Days Sunday 11 September 13.00 – 16.00. Access by boat or the Wherryman's Way riverside walk. No Vehicular access.
Clayrack Drainage Mill
Situated on the River Ant near How Hill, 200 metres north of Boardman's Mill and visible at all times from the river and public footpath. The sails of this hollow post drainage mill have now undergone  full restoration.
O.S. TG 369 194
Boardman's Drainage Mill
O.S. TG 370 192
This open-framed timber trestle drainage mill with miniature cap, sails, fantail and turbine is situated on the east bank of the River Ant at How Hill and is visible at all times from the river and public footpath.
Thurne Dyke Drainage Mill
http://www.nationalmillsweekend.co.uk
NR29 3BU
Contact Mrs D Nicholson. Telephone 01692 672155
O.S. TG 401 159
Stracey Arms Drainage Mill
NR29 3BQ
Situated on the A47. Open to the public from Easter until the end of September daily between 9.00am and 8.00pm, subject to completion of Phase 2 repairs. Please telephone 01362 869394 for confirmation. Visits at other times by arrangement with the Trust. Free Moorings. Tearoom and shop on site. Exhibition on drainage mills of the Broads.
O.S. TG 4422 090

St. Olaves Drainage Mill
This tiny, timber boarded trestle drainage mill with a scoopwheel is visible from road and river and can be approached by footpath from the bridge. It is situated on the east bank of the River Waveney, just below St Olaves' bridge on the A143. Major works are complete following storm damage but access is still restricted due to brickwork repairs required to the outfall waterlane.
O.S. TM 457 997