New Power Transmission Lines
Over several years press articles have reported the proposed construction of new overhead power transmission lines close to the Norfolk Broads. These relate to forthcoming, long term, larger scale proposals to upgrade the whole National Grid infrastructure. Locally these upgrade requirements reflect the ongoing development of offshore wind farms within the 'East Anglia Zone'.  A diagram explaining how possible future upgrading of the grid system may occur in this area can be found here. and here.  These plans are still at the development stage.
Latest News on the 'Vanguard' project can be found on this page (October 2016)
An Overview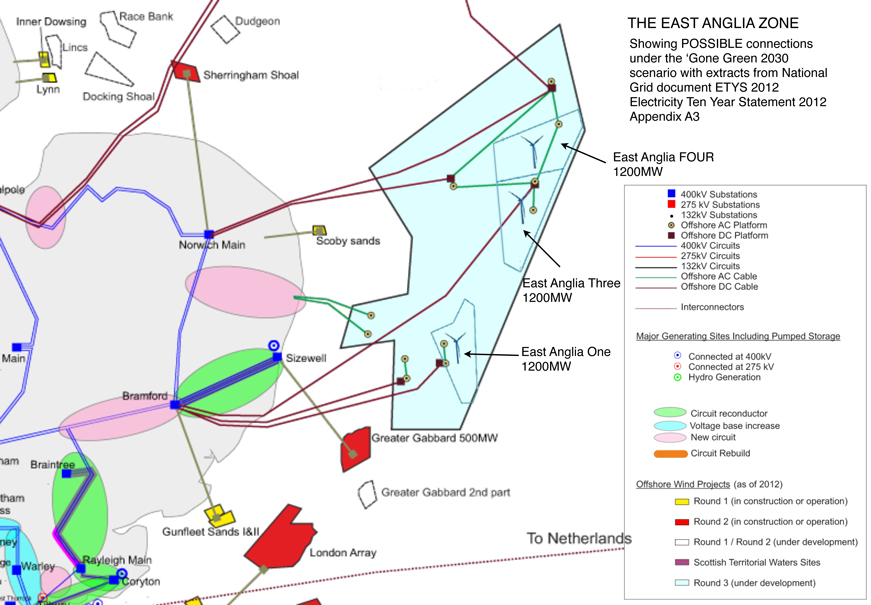 Background Information
In 2009, ScottishPower Renewables, working in a 50:50 joint venture partnership with Vattenfall Wind Power, was awarded rights to develop offshore capacity off the coast of East Anglia as part of the Crown Estate's Round Three programme.
East Anglia ONE was the first project to be identified for development in the East Anglia Zone. (Note: This project will not involve new transmission lines within the Broads area)
Public consultation on the project began in 2010 and continued to the submission of the application for consent in November 2012. In June 2014, following the approval of the Secretary of State for Energy, East Anglia ONE became the largest energy project in England and Wales to be consented. In February 2015, East Anglia ONE also became the first Round Three project in England and Wales to be awarded a Contract for Difference.
In February 2015, ScottishPower Renewables announced its role in leading East Anglia ONE towards construction and  have since selected Siemens as the preferred wind turbine supplier, in the largest deal of its kind in the UK wind energy sector.
East Anglia ONE consists of up to 102 Siemens wind turbines and foundations, each rated at 7 megawatts. This gives an overall generating capacity of up to 714 megawatts.
Two offshore substation platforms and their foundations are needed to collect the electricity from the turbines and transform it to a form suitable for transfer to shore.
Two seabed export cables, each around 73 km in length, will transfer the electricity to shore.
A landfall site with onshore transition pits is needed to connect the offshore and onshore cables.
Up to six onshore underground cables, each of around 37 km in length, will be used to transfer the electricity from landfall to an onshore converter station.
Up to eight cable ducts for two future East Anglia projects will be installed to connect into Bramford Substation. This could limit the impact of future construction operations as cables for these future projects would be pulled through the pre-laid ducts.
An onshore converter station adjacent to the existing substation at Bramford, Suffolk, is also needed to connect the offshore windfarm to the National Grid.
East Anglia THREE is the second project ScottishPower Renewables is developing in the East Anglia Zone which is currently progressing through the examination period of the planning process. View our East Anglia THREE project background to find out more.
(Planning Portal link to development of the 'East Anglia THREE' section)
Non Technical summary East Anglia 3 
Our Concern for The Broads Landscapes
The concern in the Broads area is with regard to later project connections (The Lowestoft & Norwich connections).   The two connections options of particular concern in the Broads Area are referred to as 'Lowestoft' and 'Norwich'.  The latest statements from National Grid regarding these connections is as follows: 'Although no decisions have been made, the connection agreement has been revised on the basis that cables from these projects could come ashore in the Lowestoft area no earlier than 2023, and in the Bacton area in 2025 or 2026.'   National Grid Link Page
While still at the planning stage the Lowestoft connection could affect the Waveney valley and the Bacton connection could affect areas of the Northern Broads
October 2016: Details of the development now named Vanguard can be found here: Vanguard Website  The prilimanary scoping is now underway.  The landfall site details are within the Bacton area with under grounding of cables to Grid connection point at Necton. The exact locations of the landfall and onshore infrastructure are yet to be determined. Site selection for the onshore infrastructure locations is ongoing and responses to the Scoping Request and public consultation will help to inform the development of Norfolk Vanguard.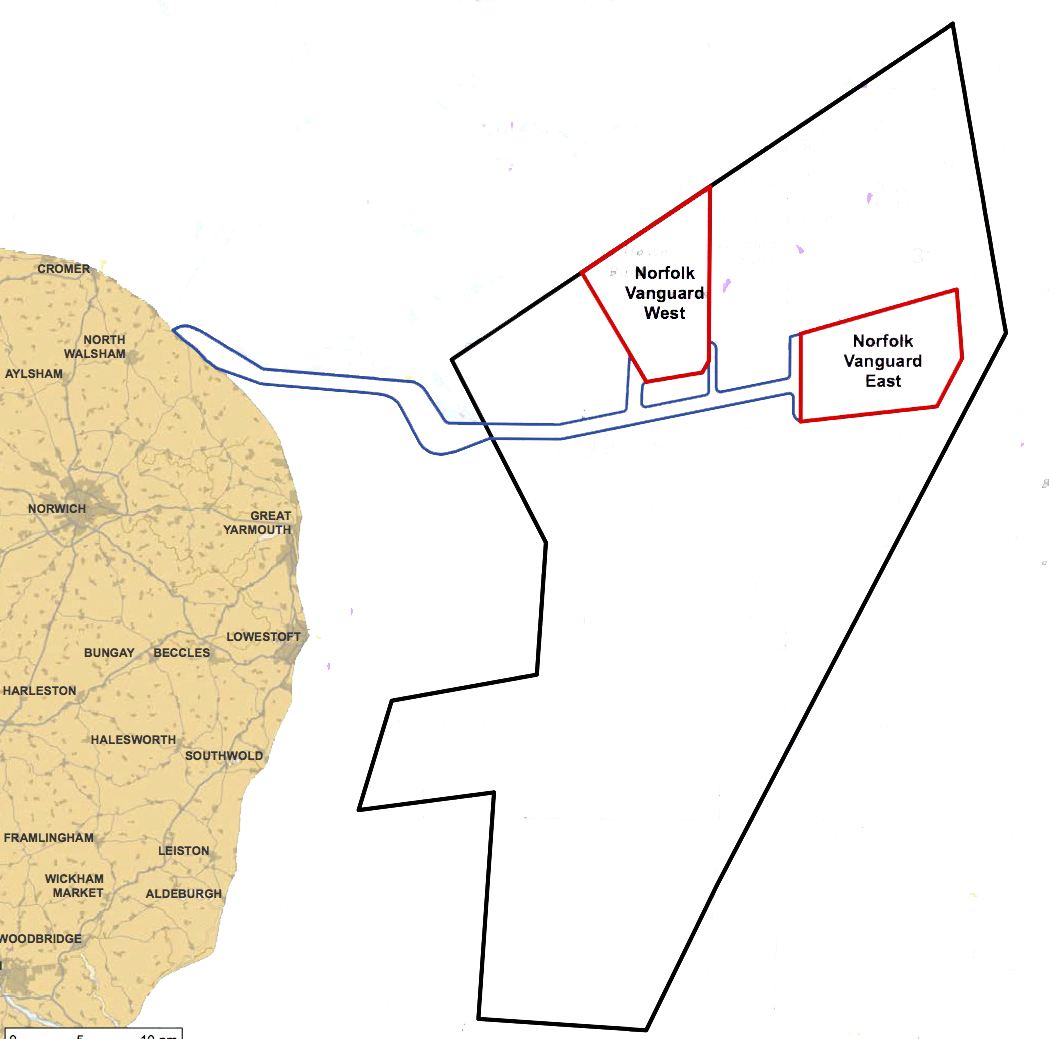 The following projects are all HVAC systems
July 2014 The Crown Estate invited all round 3 developers to revise the terms of their agreement as the projects transition from zone appraisals to project development . This could mean that zone development agreements are replaced with project specific contractual agreements
East Anglia TWO (website)
Now in development stage (2016) Further to the TEC register released by the National Grid in August 2013 East Anglia TWO capacity will be reduced to 800MW. The TEC register details Offshore Wind Farms 2A and 2B, so there is the possibility that East Anglia TWO could be split into two 400 phases. Grid connection point Norwich 400kV (to be built) Consultation is expect in the spring/summer 2016
East Anglia FIVE
Further to the TEC register released by the National Grid in August 2013 East Anglia Five's capacity will be reduced to 1000MW. The TEC register details Offshore Wind Farms 5A and 5B, so there is the possibility that East Anglia FIVE could be split into two 500 phases. Grid connection point Lowestoft 400kV (to be built)
East Anglia SIX
East Anglia Six capacity will be increased to 1800MW. TEC register details Wind Farms 6A, 6B and 6C so there is the possibility that East Anglia SIX could be split into three 600MW phases. Grid connection point Norwich Main 400kV and Lowestoft 400kV (to be built)
The exact proposals remain unclear until the consultation period. Suffolk County Council has been working to avoid a Lowestoft connection due to the potential onshore cabling implications.
Timescales for the start of development  EA TWO (300MW)  are Sep 2016 ,  for EA FIVE (1200MW) Jul 2017, and for  EA SIX  Jan 2019(1200MW) & Jan 2021(600MW)
Dec 2013    Visual impact provision ( National Grid) 
Feb 2013 Representatives from National Grid and East Anglia Wind held a meeting with South Norfolk Council and the Broads Authority at South Norfolk Council's headquarters in Long Stratton on Monday, February 4 2013,  (National Grid Overview)  (Suffolk County Council Notes)  ( Letter from Guy McGregor)
Under the latest energy price control, the energy regulator Ofgem has agreed a provision of £500 million for electricity transmission owners to mitigate the visual impact of existing electricity infrastructure in nationally protected landscapes in Great Britain.
Media Coverage
East Anglia Offshore Windfarm Zone
1) Website connected to this project
2) Cable Statement Bawdsey to Bramford  14/12/12 *  Interesting reading relating to 'Project 1'
NSCOGI
North Sea Countries Offshore Grid Initiative Report Dec 2012
National Grid Documents
1) Response to National Grid Consultation (Oct 2013)
2) National Grid Overview of EAOW Connections project Feb 2013
3) National Grid (references to this project)
4) Meeting with Norfolk County Council
9) Letter ' Integrated East Coast Offshore Network Funding' (references to onshore transmission funding)
10) Offshore Development Information Statement (2010)
11) Approach To Design And Routeing Of NewLines
OFGEN
RIIO-T1: Final Proposals for National Grid Electricity Transmission and National Grid Gas       
Distribution Network Operator
BA Documents
An extract from sep/oct Bulletin
Planning Portal links
Final Scoping Report (June 2011)
Depart of Energy & Climate Change
1) ELECTRICITY NETWORKS STRATEGY GROUP (ENSG)
Interesting articles about power transmission.
Article about AC and DC usage in power transmission and the use of overhead versus underground
Article by CPRE. Pylon plans need re-thinking
Action Group (Revolt) News page
Action Group (SVU) Stour Valley Underground